UNIGAS - A Clean & Green solution for heavy usage industrial clients
Samriddhi offers a single point contact for the provision of cost effective solutions for energy optimization of Industrial Customers using furnaces, kilns, crucibles, ovens, dryers, boilers, thermal fluid heaters, hot air generators, hot water generator, etc. using fuels like FO/LDO/HSD and Electrical System by:
Conversion of Liquid fuel Combustion systems to Gas fired LPG systems
Installing Bulk LPG/Propane Installations, LPG VOT and LOT Cylinder Installations to meet fuel consumption requirements
Arranging long term Bulk Propane/LPG Supply Contract to Customers
Providing Value added Services like training to Customer Personnel & handling on-site maintenance of Bulk LPG/ Propane Installations
Providing 24/7 technical service support for the converted Combustion system.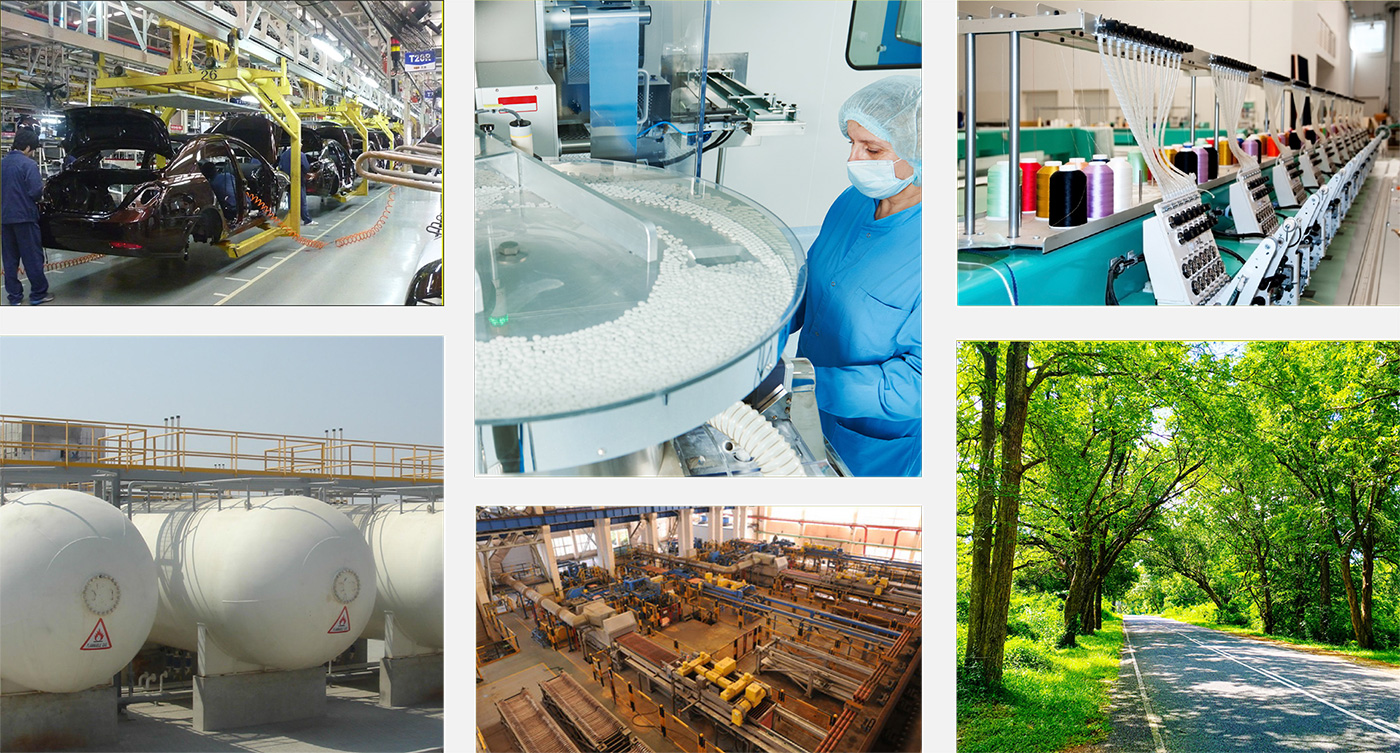 INDUSTRIAL APPLICATIONS FOR UNIGAS LPG
---
Some of major Industrial applications where UNI GAS LPG can be successfully used are given below :
---
Metal Industries
(Ferrous & Non Ferrous)
Non Ferrous Metal melting and Holding. Ferrous & Non Ferrous metal Billet heating, rolling, Different types of Heat Treatments, Surface Heating and Protective Surface Coatings ,brazing, Metal Cutting, welding etc. Direct Firing is adoptable in most of the applications
Automobile & Auto Ancillary
Apart from Melting, Heat treatment, Cutting and Welding/Brazing applications, predominantly used in Paint shop / Hot Air Generators and Hot Water Generators. Also used as Fuel in Automobiles and Forklift Trucks.
Ceramic Industry
LPG is used (Direct Firing Sys)in kilns and furnaces for manufacturing tableware, decorative earthenware, Stoneware, Porcelain, Sanitary ware, Tiles, electrical insulators, etc
---
Pharmaceutical Industry
Used in Hot water Generators & Boilers. Paper & Packaging Industry: LPG is used for coated paper drying to produce high quality paper sheets, and also in the manufacturing of packaging materials like corrugated sheets, rolls and boxes.LPG can be used in Direct Firing System to save costs considerably.
Food Drying & Processing Industry
LPG is used in bakeries for baking of breads, cakes, in biscuit units for baking/drying of wafers, cream biscuits & milk biscuits. LPG can be used for direct firing of biscuits which will be major cost saving for biscuit industry. Can also be used in Grain, Tea, Nuts & Milk Drying , Coffee roasting and Chocolate Mfg.
Glass & Lamp Industry
Used for various processes like Cracking off and Edging, glass feeders, annealing lehrs, glass cutting , Joining, fire polishing, melting, Mould Heating, Reheating Glass etc. Also extensively used in manufacturing of incandescent lamps, CFL lamps, tube-lights, etc.
---
Plastics Industry
Used for heating in injection moulding process and rot moulding process to produce wide variety of plastic articles such as bottles, storage tanks, containers, Foam Extrusion Process etc.
Building & Construction Industry
Used for Metal working, Concrete Drying, Bitumen Heating , Hot Mix Manufacturing etc.
Agriculture Industry
Used for drying of various agricultural crops like drying of seeds and pulses, roasting of peanuts, curing of tobacco, etc.
---
Printing Industry
Used in the print industry for drying of ink to produce high quality glossy prints for magazines, etc. Also used for drying of inks after printing process on metal sheets and cans.
Chemicals, Paints & Dyes, Soaps & Detergents Industries
Used in chemical industries for process heating (through steam), roasting and drying of chemicals. Used for Mfg of Soaps and Detergents, Pigments Mfg etc.
Poultry Industry
Used in poultry farms to provide the humid heat necessary with accurate temperature control for faster and healthier growth of chickens.
---
Textiles Industry
Used in textile & garments industry for numerous applications - Singeing (burning off projected yarn for better fabric finish), Calendaring (another finishing process), Drying after printing on fabrics and for Steam generation.
Other Industries
Used as Aerosol Propellant in deo-sprays, perfumes, shaving form, insecticides spray etc. Used for Rubber retreading, Rubber sheet industry, Small DG Sets, Surgical Gloves(Drying), Incinerators, Laundry Drying, Co-generation(Power + Steam)etc.